Calcalist has learned that Robert Simonds, a Hollywood producer with ties to China, has recently become a director of the holding company that owns 100% of Israeli spyware developer NSO. Simonds is one of the only two directors of the holding company Dufresne Holding, alongside Omri Lavie, the founder of NSO, who also owns all shares in the holding company. As far as is known, Simonds has no practical or business experience related to NSO's areas of activity, but in addition to his production company has served as a director in several companies and institutions in different areas of activity.
Until early 2023, NSO was owned by a group of investors who took control of the company from the Francisco Partners fund in 2019 in a joint transaction with founders Shalev Hulio and Omri Lavie. The majority owners were represented by an American company called BRG Novalpina. Another investor interested in NSO is a consortium of lenders (which includes Credit Suisse, Senator Investment Group and Birch Grove Capital) that loaned the company half a billion dollars as part of the Francisco Partners fund's share buyback process. This debt placed a significant financial strain on NSO, especially after it was blacklisted by the US Department of Commerce in 2021.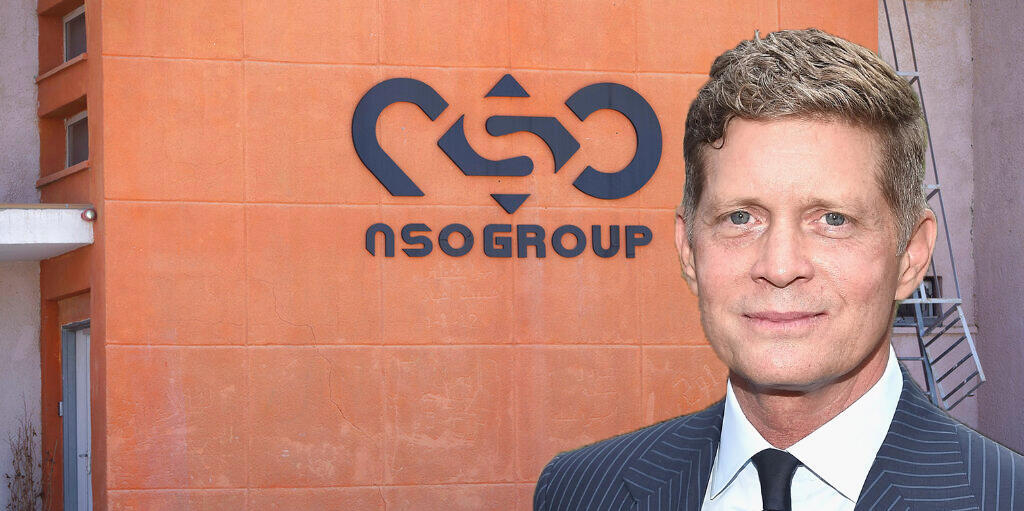 During 2022 and early 2023, management of BRG and NSO engaged in a number of public litigation related to control of the company and the activities of its subsidiaries. The most recent dispute between them, heard in the Tel Aviv District Court, concerned the directors appointed by BRG and, according to Hulio and Lavie, as a result of another legal dispute in Luxembourg, the appointment of these directors is invalid and they have no authority over management the NSO.
That legal battle came to a surprising conclusion in February this year when Hulio, Lavie and the consortium of lenders transferred all of the company's shares to a new holding company, Dufresne Holding, based in Luxembourg (previously the NSO group's shares had been held by another Luxembourg company called NorthPole.At the time of the announcement, Lavie was listed as the sole shareholder and sole director of Dufresne Holding, although according to the announcement submitted to the court, a "new group of investors" is expected to emerge.
Simonds was born in Phoenix in 1962 and is a graduate of Yale University. He works full-time in the entertainment industry and from 1990 worked as an independent producer in Hollywood, where he produced films by Adam Sandler ("The Wedding Singer", "Big Daddy" and others) and Reese Witherspoon, among others. The 30 films he produced during that period grossed $6 billion.
In 2012, Simonds founded an independent production company called STX Entertainment, with investments from sources including TPG Growth Fund, billionaire producer Gigi Pritzker, and Chinese investment fund Hony Capital, controlled by holding company Legend Holdings, Lenovo's parent company. In 2016, STX attracted more investors, including Chinese tech giant Tencent and Hong Kong telecoms company PCCW. In 2019, TPG and Hony led another funding round in STX totaling $700 million. STX had planned to go public in Hong Kong in 2018 at a value of $3.5 billion, but in the end those plans didn't materialize.
As a production company, STX focused on low-budget (by Hollywood standards) films. The cost of most of his productions ranges from $5 million to $20 million per film, almost always in co-production with other parties. These films typically grossed tens of millions of dollars at the box office, but a significant number of films grossed less than $10 million because ticket sales did not cover production costs.
In April 2020, amid STX's moderate success at best, Simonds was working on a merger with Indian production company Eros International. A year earlier, a press release had raised suspicions of financial irregularities at Eros, such as $153 million being transferred to a production company whose address is registered in a Mumbai slum and which was run by the brother-in-law of Eros' CEO Eros.
The connection between STX and Eros did not last long, and last year the investment company Najafi Companies owned by Iranian-American billionaire Jahm Najafi bought STX from Eros for $173 million, giving it 85% of the shares in the split company (Eros owns the remaining 15%) – a significantly smaller amount than the many monies that have been invested in the company over the past few years and which represents a significant business failure. From what is known, even after all the incarnations that STX has been through, Simonds remains involved in its activities and currently serves as the company's chairman.
In addition to his entertainment activities, Simonds has served as a director in several other companies. Simonds' family owns water rights in Arizona and he was a board member of the Metropolitan Water District of Southern California, the world's largest water wholesaler, from 2004 to 2006, where he represented the city of Los Angeles.
In 2010, Simonds was appointed a director of Heckmann Corporation, a public company that founded and grew companies and businesses in the transportation and handling of liquids and other materials. In 2013 the company changed its name to Nuverra Environmental Solutions and last year the company was acquired by Select Energy Services in a $45 million deal. As of today, Simonds is no longer directing.
Simonds has also served on the boards of directors of the Yale School of Management and the California Chamber of Commerce, serves on the advisory board of the Center for Global Risk and Security at major research institute RAND Corporation, and was a governor of the Los Angeles County Museum of Natural History.
Simonds was also involved in a #metoo mini-scandal. In January 2018, it was reported that STX President Sophie Watts was leaving the company after complaining of harassment from Simonds, the CEO at the time. Two sources familiar with the matter described the behavior of Simonds, a married father of five, towards Watts as "obsessive". STX countered that the report was "inaccurate in a number of ways."
Simmonds could not be reached for comment. NSO did not respond to the report.